Kay627
Owner
First topic message reminder :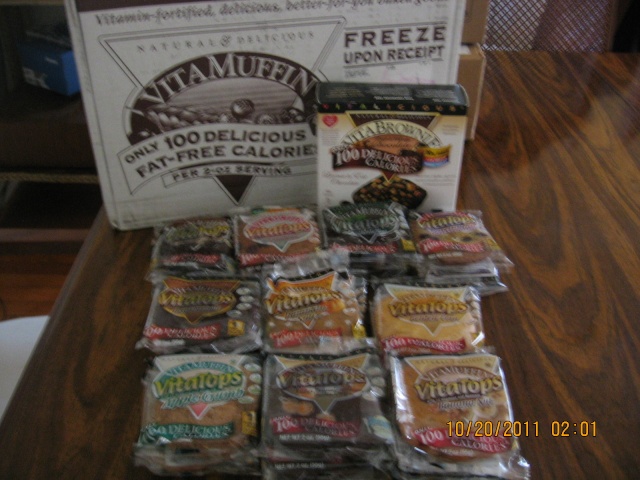 Many of you are probably like me. You like sweets but you know you have to eat them in moderation. You want all natural food but can't find it and, if you do, it tastes like straw. You would love to get more fiber and vitamins in your diet but find yourself eating empty calories because you crave something that doesn't look or taste like a vegetable or fruit and that satisfies your sweet tooth.
Well, I have the answer for you!
Vitalicious
is the market leader of innovative "vital and delicious" baked goods that promote a healthy lifestyle without sacrificing taste. Ever since its inception in 1999,
Vitalicious
has been committed to providing wholesome, value-added products that maximize satisfaction with minimum calories. Packed with flavor and nutrition,
Vitalicious
all-natural baked goods contain only 100 delicious calories and are sold under the VitaMuffin™, VitaTops™, VitaBrownie™, VitaCake™ and VitaMuffin Mix™ trademarks.
I received
Vitalicious Super Sampler Pack
(100 Calorie Brownies & Muffin Tops) The Pack contains 24 all natural 100 calorie muffin tops and brownies:
4 Deep & Velvety VitaBrownies
2 Chocolate Mint VitaTops
2 Banana Nut VitaTops
2 Triple Chocolate Chunk VitaTops
2 Deep Chocolate VitaTops
2 Fudgy Peanut Butter Chip VitaTops
2 Golden Corn VitaTops
2 CranBran VitaTops
2 Apple Crumb VitaTops
2 RaisinBran VitaTops
2 Pumpkin Spice
Each
Vitalicious
products comes to your door freshly-baked right out of their ovens, and they're individually wrapped for your convenience. Because these items are all baked fresh and have no preservatives, once received you must immediately freeze them to keep them from spoiling. When you're ready to eat them just zap it in the microwave for 20 seconds!
Quality and taste are honestly second to none and, if you like chocolate, their chocolate muffins and brownies will scratch that itch and give you vitamins and fiber and barely any fat at all!
Vitalicious
are available in stores nationwide or you can purchase them online at
Vitalicious.com
Thanks to Ms. Danielle C. of
Vitalicious
one EFS member will win the Super Sampler Pack worth $35.99!!
How to enter:

Mandatory Entries:
* You have to be an Everyday Free Samples member to participate/comment on a giveaway/forum so
REGISTER NOW!
Its FREE!
*
"Like" Vitalicious
on Facebook.
Extra Entries
*
"Like" Everyday Free Samples
on Facebook.
*
Follow Everyday Free Samples
on Twitter.
*
Follow Vitalicious
on Twitter.
* Retweet this daily:
EFS: #Win a Super Sampler Pack @vitamuffin products ($36 value) at @FREESAMPLES4ALL #Giveaway bit.ly uRnzBg ends 11/09 OPTIONAL: Retweet ONCE a day until the giveaway ends just leave a comment below with your status link. Make sure to leave comments separately.
Giveaway Guidelines and Disclosure:
Open to US residents only. FREE products pictured above were provided to facilitate this review. No monetary compensation was received. Giveaway ends Nov. 09, 2011 at 11:59PM EST. Winner/s will be picked via Random.org and announced the following day. Winner will also be pm'ed and will have 48 hours to reply before another winner is chosen.


Last edited by Admin on Mon Nov 14, 2011 11:27 am; edited 1 time in total