Kay627
Owner
Crabtree & Evelyn's
launched their New Floral Fragrance Collection last March 10. This collection consist of a vast array of body products centers on the four modern single notes from each of beloved floral scents we all love to date -
Lily
,
Lavender
,
Rosewater
and
Iris
.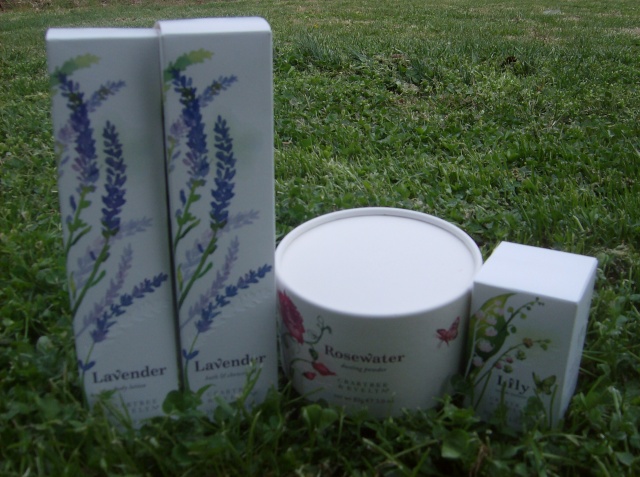 Each collection comprises an array of Eau de Toilette, Bath & Shower Gel, Triple Milled Soap, Body Cream, Body Lotion, Home Fragranced Reed Diffuser, Drawer Lining Papers, Scented Poured Candle, Home Fragrance Spray and Gifts, Dusting Powder, Environmental Oil.
I received 4 products from different collection;
Bath & Shower Gel in Lavender
luxurious cleansing gel leaves skin feeling soothed, refreshed, and scented with uplifting Lavender fragrance. Extracts of lavender, peony, white magnolia, and elderflower help condition the skin.
Body Lotion in Lavender
velvety rich body lotion features a moisturizing blend of shea butter and lavender, evening primrose, almond, and coconut oils. Extracts of peony, white magnolia, and elderflower help condition the skin.
Dusting Powder in Rosewater
soothing talc-free powder features a blend of finely milled botanical and mineral powders to help keep skin silky smooth and fragranced with alluring Rosewater.
Eau de Toilette in Lily
features a perfect single accord of lily of the valley blended with dewy greens, velvety woodland mosses, musk, and hints of hyacinth and ylang ylang.
All products are Free of parabens, phthaletes, propylene glycol, and mineral oil.
We all know
Crabtree & Evelyn
to be our reliable source of seasons giving gifts. I have received and given gifts from this trusty brand. Each product is crafted with elegance and quality that you're guaranteed to feel pampered.
Crabtree & Evelyn
does a remarkable job of combining design and function. The 35-year-old brand continues to impress with each new collection, as it meshes results – think smooth skin, welcoming scents – with beautiful packaging.
Disclosure
FREE product pictured above were provided to me to facilitate this review. No monetary compensation was received. My product review is my honest opinion and is not reviewed or edited by Crabtree & Evelyn . Due to the new FTC rules, I was under no obligation to review any product if I so choose, Nor was I under any obligation to write a positive review in return for the FREE product/s received.