Kay627
Owner
About Breda Watch
Since its inception,
Breda
has created American-inspired fashion watches for men and women around the world.
Breda
designs give a fresh look and feel to the classic tradition of time keeping and can be described as trendy, versatile and fun. During the brand's young history (founded in 2009), it has quickly become a global brand offering high quality, durable, functional timepieces for men and women. Today
Breda
carries a wide breadth of designer-inspired watches (over 300 styles) distributed throughout North America, Europe, South America, and Asia.
Under
The Brooke Collection
these 3 (pictured below) caught my eyes!
Breda
has watches of all colors and types, including classic, sporty, trendy, dressy and even
Automatics
. They offer watches for both women and
men
and sizes range from the classic smaller watch to the now trendier bigger watches. Many of them have that beautiful sparkle of rhinestones and silver and gold bezels, while others offer a classically elegant design or very fun, colorful pieces. Truly a watch for each personality and lifestyle!
So If you're looking for high quality, fashionable watches – look no further,
Breda Watch
is the bomb! Great as a gift for your significant other. Surprise him/her with a stunning
Breda Watch
.
Now tell me this ain't your lucky day! From now until Nov.28,
Breda is offering 50% off your entire purchase
just enter coupon code
TURKEY
at checkout! Plus FREE Ground Shipping on all orders within the USA!! Yep, i can see all of you droolin'... lol... get yourself together and take advantage of this great offer from
Breda Watch
.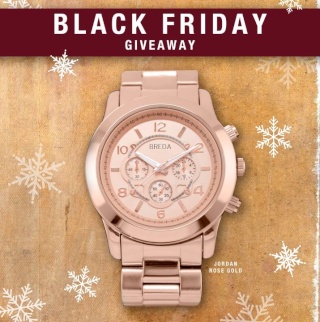 Plus
Breda Watch
is having their
Black Friday Giveaway
and they are giving away a Rose Gold Jordan on Black Friday. The only thing you have to do to qualify is head over to the
Breda website
and sign up for their newsletter. The contest starts today (Nov. 18, 2011) and ends November 25, 2011. Winner will be announced on Black Friday.
Connect with Breda Watch on these Social Media:
Breda Watch on Facebook
Breda Watch on Twitter
Breda Watch Blog