Kay627
Owner

Whether your are a busy mom on the go, student studying for an upcoming exam, or a kid looking for a fun snack,
SunRidge Farms
has organic & natural treats for everyone! They offer a wide variety of candies, dried fruit, nuts & seeds, and snack/trail mixes.
"To provide the healthiest products to our customers by producing foods without highly processed or refined ingredients."
That is
SunRidge Farms
promise.
SunRidge Farms
is a true innovator in organic and natural bulk and packaged nuts & seeds, dried fruit, candies, and snack & trail mixes. Our commitment to natural ingredient development means nutritional products that are free of unhealthy refined sugars, hydrogenated oils, artificial colorings, and preservatives. Within each of our snack categories we offer a wide variety of naturally flavorful ingredients to satisfy every taste.
I got to try a couple of different products from
SunRidge Farms
.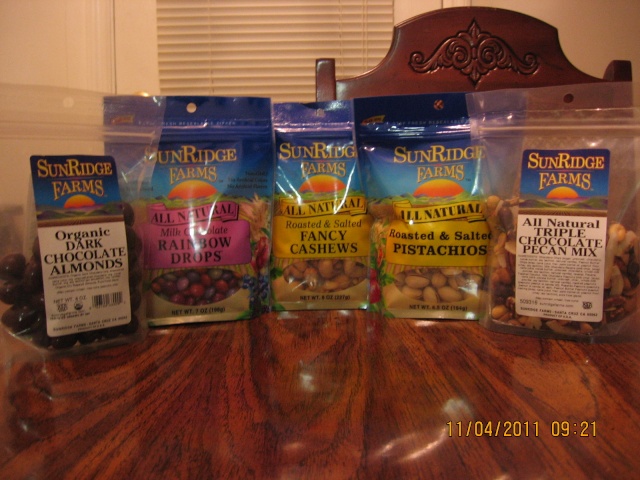 Dark, Cane Sweetened Chocolate Almonds
Freshly roasted in house, then drenched in SunRidge Farms All Natural Dark Chocolate Dark chocolate is recognized for its antioxidant properties Luscious Dark Chocolate and Fresh Roasted Almonds. Hubby almost ate the whole bag!
Milk Chocolate Rainbow Drops
Perfect for lunches and snacking anytime, all natural colors. My 3 yr old daughter had a feast on these.
Roasted & Salted Fancy Whole Cashews
Roasted and Sprinkled with Salt All Natural and Roasted in house in SunRidge Farms roasters great snack for quick energy and delicious taste. This is one of my favorites, they are lightly salted really good for you.
Jumbo Roasted & Salted Pistachios
Once you start eating these tasty, slow roasted and lightly salted snacks, you won't want to put them down. They are yummy!
Triple Chocolate Pecan Mix
loaded with gourmet goodies including Peanut Butter & Chocolate Chips, Milk Chocolate Raisins and Peanuts, Peanut Butter Peanuts, Toasted Coconut, Roasted Peanuts and Pecans. A triple chocolate explosion with the deliciousness of pecans and peanuts.
You can
buy Sunridge Farms products
on their website which are all reasonably priced for something organic and natural.
Disclaimer:
FREE products pictured above were provided to me to facilitate this review. All opinions are mine and may vary from others. No monetary compensation was received.