Kay627
Owner
Vitalicious
the 'market leader of vital and delicious baked goods' has launched new 50-calorie
Fudgy Chocolate Mini VitaCakes
, the first 50-calorie product of its kind and Vitalicious' lowest-calorie product ever. Launching just in time to jump-start healthy New Year's resolutions,
Fudgy Chocolate Mini VitaCakes
satisfy your passion for chocolate and still leave you feeling full and satisfied.
With 2g of protein, 6g of fiber, 14g of carbs, only 1g of fat plus 15 vitamins and minerals, the all-natural
Fudgy Chocolate Mini VitaCakes
are loaded with as much nutrition as they are with gooey chocolate goodness.
VitaCakes are made from all-natural ingredients and whole grains without any artificial coloring or preservatives of any kind. Plus, it only takes 7 minutes to "walk off" the 50 calories contained in each Mini VitaCake.
Just pop 'em in the microwave for 10 to 15 seconds and you'll have a guilt-free, delicious and healthier snack! YUMMY!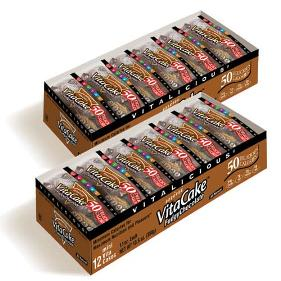 You can buy Fudgy Chocolate Mini VitaCakes at Vitalicious.com and when you place your order today, the first 500 customers will also get a FREE VitaBox! - so you can carry your muffin tops and cakes conveniently everywhere! Vitabox can fit into any purse, briefcase, workout bag, backpack or lunch box, they are easy to eat anywhere.
Connect with Vitalicious on these Social Media:
Vitalicious on Facebook
Vitalicious on Twitter
Vitalicous on YouTube
Disclosure:
2 boxes of Fudgy Mini VitaCakes and a VitaBox were provided to facilitate this post. No monetary compensation was received. Thanks Ms. Danielle C.