Kay627
Owner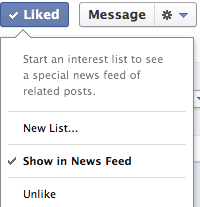 Facebook is switching all pages over to the Timeline format by March 31st. I have not switched my page yet but will soon do, so i could get use to it.
Here are some tricks that will be helpful so you wont miss a freebie or deal!
** Go to the
EFS Facebook Page
and scroll over the check mark on the "Liked" button. When the box appears, click Show in News Feed.
**
Then, on your wall, scroll over the Sort button and choose Most Recent. Unfortunately, it appears you have to do this every time you login to Facebook.
** Also, you can make a list of all your favorite pages. Just look on the left hand side of your Wall, find where it says Friends and click More to the right of it. Choose Create List and name it. Then go into Manage List and choose Edit List. Using the On This List tab you will be able to add all your favorite pages to the list.
Then, once you sign onto Facebook, click this list that you just made (will be displayed along the left sidebar) and everyone included in your list should show up – in chronological order!
I hope that the above tips help make things a little easier.