Kay627
Owner
Tropical Traditions
has a strong commitment to family farming and organic standards. They stand firmly against genetically modified foods (No GMOs.)
All of their foods are either certified organic or meet quality standards that are equal to or higher than organic certification. This includes no GMOs. This is quite different from most health food stores, where you have to be "on your guard" as most of them offer conventional products right alongside organic products, because they want to offer a full selection of products to compete with regular grocery stores.
Tropical Traditions
would rather offer fewer products, and stick to their high standards, so that you can feel safe when shopping there.
For this review i received a 1 quart
Tropical Traditions Gold Label Coconut Oil
- is made from organic, fresh coconuts in rural areas of the Philippines. Only the finest, organic coconuts are hand selected for this oil. Gold Label Virgin Coconut Oil is hand-made in small batches and contains the highest levels of anti-oxidants of any type of coconut oil.
America's First Traditional Handcrafted Virgin Coconut Oil

What is Virgin Coconut Oil?
Virgin Coconut Oil
can only be achieved by using fresh coconut meat or what is called non-copra. Chemicals and high heating are not used in further refining, since the natural, pure coconut oil is very stable with a shelf life of several years. The result is a clear coconut oil that retains the distinct scent and taste of coconuts. This is a traditional method of coconut oil extraction that has been used in the Philippines for hundreds, if not thousands of years.
Coconut oil has hundreds of uses!
for frying, baking and a lot more!
So, off to my kitchen and i concocted this gluten-free, flourless cupcakes!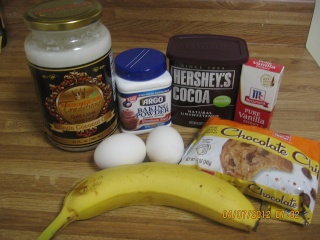 Ingredients
1/4 cup melted
Tropical Traditions
coconut oil
1 teaspoon vanilla extract
2 eggs
1 ripe banana
1/3 cup unsweetened cocoa powder
1/8 teaspoon salt
1 heaping teaspoon baking powder
Directions:
Throw coconut oil, banana, vanilla and eggs in a food processor or blender or use a hand mixer. Blend everything until smooth. In separate bowl, combine cocoa powder, baking powder and salt, mix well. Now dump the coconut oil/banana mixture in the bowl with the dry ingredients. Stir until everything is incorporated. Decide if you want to make a cake or several cupcakes make sure to grease your pan well or use cupcake liners or parchment paper (i used ramekin cups with liners). Bake at 325 for 30 to 35 minutes.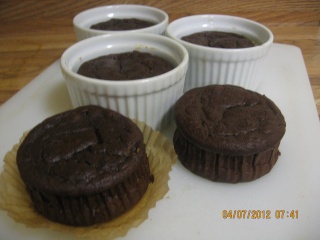 For the frosting i used;
1/4 cup semi-sweet chocolate chips
1 teaspoon
Tropical Traditions
Coconut oil
if you want it pretty sweet (like my hubby!) add 2 teaspoons of cream cheese frosting (i used Duncan Hines)
Just combine all of them in a microwaveable bowl and heat until melted and then spread on cupcakes. YUMMY!!!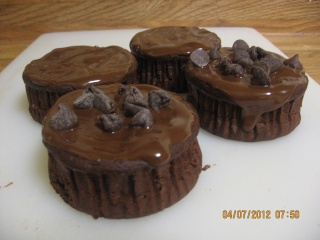 This is a must-try recipe!
You can buy coconut oil and all the wonderful products of Tropical Traditions on their
website
or through a nearest
retailer
.
Thanks to Tropical Traditions one lucky EFS member will win a quart of Coconut Oil worth $29.50!!How to enter:

Mandatory Entries:
Make sure to leave comments separately.
* You have to be an Everyday Free Samples member to participate/comment on a giveaway/forum so
REGISTER NOW!
Its FREE!
* Subscribe to
Tropical Traditions Newsletter
for upcoming sales, promos and giveaways!
Optional Entries
*
"Like" Everyday Free Samples
in Facebook.
*
"Like" Tropical Traditions
in Facebook.
*
Follow Tropical Traditions
in Twitter.
* Retweet this daily:
EFS: #Win a quart of @Troptraditions Coconut oil at @FREESAMPLES4ALL #Giveaway bit.ly HFwZD4 ends 4/22
Giveaway Guidelines and Disclosure
FREE product pictured above were provided to me to facilitate this review. No monetary compensation was received. Giveaway ends Apr. 22, 2012 at 11:59PM EST. Open to US residents. Winner/s will be picked via Random.org and announced the following day. Winner will also be pm'ed and will have 48 hours to reply before another winner is chosen. My product review is my honest opinion and is not reviewed or edited by Fruit of the Loom. Due to the new FTC rules, I was under no obligation to review any product if I so choose, Nor was I under any obligation to write a positive review or sponsor a product giveaway in return for the FREE product/s received.


Last edited by Admin on Tue Apr 24, 2012 1:14 pm; edited 1 time in total