Kay627
Owner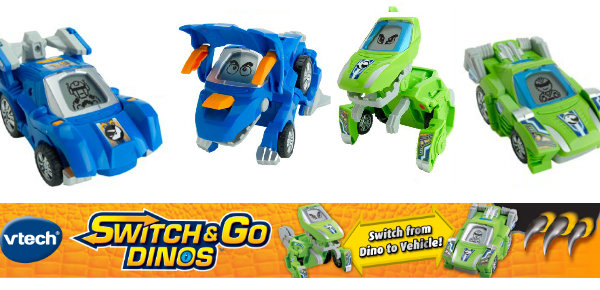 For the first time ever, VTech® brings together two of boys' most popular toys - dinosaurs and vehicles - into a unique 2-in-1 play experience. Introducing
V-Tech Switch & Go Dinos
.
V-Tech Switch & Go Dinos
offer an exciting play experience fusing easy transformation with cutting-edge electronics. Boys will love the unique animations and roaring sound effects that bring the toys to life. With their awesome personalities and fierce designs, they're dino switchin', racing fun!
A few days ago, I received two Switch and & Go Dinos from VTech. These new toys switch back and forth between vehicle and dino and they "talk" to you child by presenting them with interesting and fun dinosaur facts.
My 4 year old LOVES dinosaurs (she loves watching the Dinosaur Train cartoons!) and I have to say she has had so much fun playing with these. They easily morph into two awesome toys, and they have have an interactive LCD screen and sound effects that bring the toy to life. And they are easy to use. In fact, after 5 minutes of playing with these, my daughter was showing me some of the cool features she discovered, like how easy they transform and how fun it is to customize the animation on the LCD screen- you can select animated dinosaur eyes when in dinosaur form, and driver faces when in vehicle form.
The four Starter Dinos: Sliver the T-Rex, T-Don the Pteranodon, Tonn the Stegosaurus and Horns the Triceratops just became available on May 21 exclusively at Amazon.com for a suggested retail price of $15.99. Beginning June 18, they'll be on sale at VTechKids.com and they'll be available at major retailers in Fall 2012. Also available in the Fall will be Attila the Ankylosaurus (SRP: $24.99), Span the Spinosaurus (SRP: $29.99), Brok the Brachiosaurus (SRP: $49.99) I can totally see these being the hot toy this season, so I think it's cool that you can Buy today on Amazon and then add to your child's collection this Fall.
Disclosure
I have received VTech Switch & Go Dinos for FREE to facilitate my review. No monetary compensation was received. All opinions are mine and may vary from others.