Kay627
Owner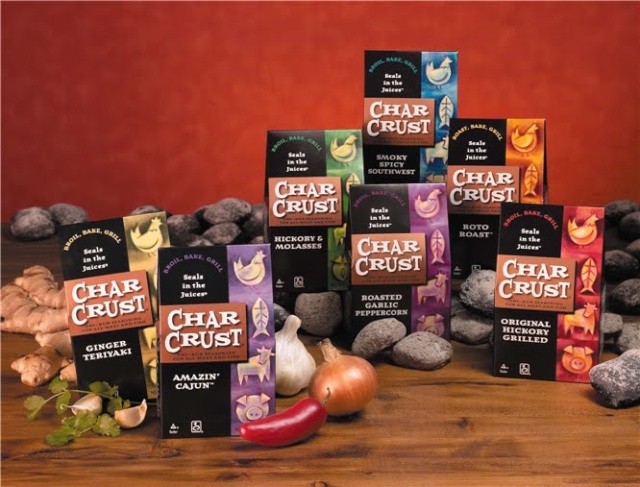 How Char Crust
(the seasoning) became Char Crust
(the company)
"My dad's legendary Chicago steakhouse, Al Farber's, is where it all started in 1957. Thick prime steaks with sizzling charred crusts, bursting with juicy flavor, were the signature of our restaurant. When diners would literally beg to take our seasonings home, we knew we had a winner! That time and those flavors are captured in our two original dry rubs: Original Hickory Grilled (originally called just Char Crust
) and Roto Roast."
It's summer time and that means time for grilling (i grill all year round though, even if its snowing!

). Whatever your favorite meal to prepare on the grill, you always need a good rub or marinade. That is where
Char Crust
Dry Rub comes in. They have something for everyone. Plus, you don't even have to wait to use it on the grill, you can bake or broil with it.
Char Crust
has 9 different products to try for any meats, fish or veggies! Those flavors are: Original Hickory Grilled, Roasted Garlic Peppercorn, All American BBQ, Ginger Teriyaki, Smoky Spicy Southwest, Amazin' Cajun, Sun-Dried Tomato & Garlic, Hickory Molasses and Roto Roast.
I received the
Original Hickory Grilled
A bit smoky-salty-sweet, it enhances the natural flavor without overwhelming and
Sun-Dried Tomato & Garlic
it has a vibrant aroma of sun-dried tomatoes, roasted garlic, rosemary, and just a hint of lemon. Delicious on mild fish like tilapia, cod, haddock, or shrimp.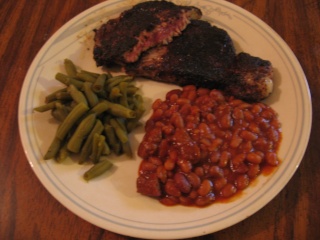 So we tried the Original Hickory Grilled flavor in some Rib-eye steak (i just dredge each steak with generous amount of the dry rub), i made some baked beans (sprinkled with a little of the Original Hickory Flavor) and greens, oh boy! it was delicious!! A MUST TRY!!
Be sure to try Char Crust for seasoning veggies too! It's great for potatoes, sweet potatoes, asparagus, peppers, zucchini and the list goes on! Season the veggies and toss 'em on the grill! Yum!
They are so simple to use, and when you are short on time, who doesn't love convenience and simplicity. Plus, they taste so good. All
Char Crust
products are made from natural ingredients that are simple, recognizable and easy to pronounce. There are no weird chemicals or synthetic stuff.
You can buy these amazing products at a
retailer nearest you
or you can
order directly from Char Crust
.

Thanks to Char Crust, one lucky EFS member will have a chance to try 3 Flavors Original Hickory Grilled, Roasted Garlic Peppercorn and Ginger Teriyaki!!How to enter:

Mandatory Entries:
Make sure to leave comments separately.
* You have to be an Everyday Free Samples member to participate/comment on a giveaway/forum so
REGISTER NOW!
Its FREE!
(Leave a comment below that you are now/already a member, 1 entry.)
* Leave a comment below and tell me which seasoning you would most like to try.
Optional Entries
(Make sure to do all mandatory entries first!)
*
"Like" Everyday Free Samples
on Facebook.
*
"Like" Char Crust
on Facebook.
*
Follow Char Crust
on Twitter.
*
Follow Everyday Free Samples
on Twitter.
* Retweet this daily:
EFS: #Win a @CharCrust dry rub seasonings Prize Pack at @FREESAMPLES4ALL #Giveaway http://goo.gl/vILmY ends 8/4
Giveaway Guidelines and Disclosure
FREE product/s pictured above were provided to me to facilitate this post. No monetary compensation was received. Giveaway ends Aug 4, 2012 at 11:59PM EST. Open to US residents. Winner/s will be picked via Random.org and announced the following day. Winner will also be pm'ed and will have 48 hours to reply before another winner is chosen. Opinions expressed in this content are my own and are not reviewed or edited by Char Crust. Due to the new FTC rules, I was under no obligation to review any product if I so choose, Nor was I under any obligation to write a positive review or sponsor a product giveaway in return for the FREE product/s received.


Last edited by Kay627 on Wed Aug 08, 2012 7:24 pm; edited 1 time in total