Kay627
Owner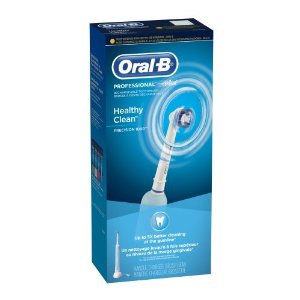 Do you know that a regular manual toothbrush can leave behind up to 50% of plaque? Invest in the health of your whole mouth with the
Oral-B® Professional Care® 1000
. Inspired by tools dental professionals use, this rechargeable electric toothbrush surrounds and cleans each tooth, reaching hard-to-reach areas that a regular manual brush can sometimes miss. The unique round brush head gently pulsates to break up plaque and rotates to sweep it away, removing up to 5X at the gumline than a regular manual brush. Oral-B® Professional Care® 1000 also helps improve gum health by helping to prevent and reverse gingivitis.
After using it for more than 2 weeks now, I can't specifically measure my results, but here's what I experienced after using it;
-- The stains on my teeth started to break up and diminish after just a few uses.
-- I used to use a scraper on my teeth every night to help remove plaque where the floss was hard to use because of my retainer. After about a week, I noticed the scraper was coming away clean. The
Oral-B® Professional Care® 1000
was definitely breaking up more plaque at the gumline.
-- My teeth feel cleaner. I don't know how to describe it, but I've suddenly turned into one of those people in the toothpaste commercials who are always running their tongue over their teeth to feel how smooth and clean they are.
-- I'm doing a lot less work to get a cleaner and brighter smile.
I honestly didn't expect the type of toothbrush I used to make a big difference, but I'm so glad I discovered the
Oral-B® Professional Care® 1000
and I consider it a worthwhile investment in good health and a beautiful smile. It'll be making an appearance in a number of Christmas stockings around here this year.
Connect with Oral B on these Social Media:
Oral B in Facebook
Oral B in Twitter
Oral B in YouTube
Thanks ModernMom!
Disclosure
FREE product/s pictured above were provided to me for FREE to facilitate this post. No monetary compensation was received. Opinions expressed in this content are my own and are not reviewed or edited by Oral B. Due to the new FTC rules, I was under no obligation to review any product if I so choose, Nor was I under any obligation to write a positive review or sponsor a product giveaway in return for the FREE product/s received.