Kay627
Owner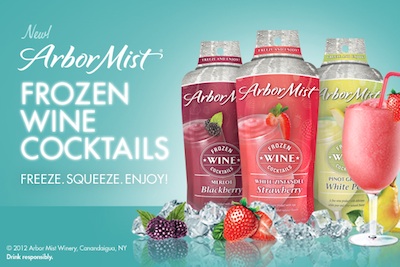 I was recently given the opportunity to try out the new
Arbor Mist Frozen Wine Cocktails
. I received 2 pouches of each Blackberry Merlot, Strawberry White Zinfandel and White Pear Pinot Grigio. It's a simple concept. The frozen wine cocktails come in a pouch. You put the pouch in the freezer for a couple of hours. When your ready for a drink take it out of the freezer let it thaw for about fifteen minutes, squeeze the pouch to break up the frozen wine and turn it into a frozen wine slushy.
Arbor Mist Frozen Wine Cocktails
require no mixing of ingredients, ice or blenders, perfect wine drink to cool off with. These would be great for get-togethers, birthdays or any party for that matter.
I'm not a big drinker but I occasionally like to drink a glass or two with hubby. I enjoyed these Arbor Mist frozen wine cocktails so much, it has no after taste. They were cold and refreshing wine flavor that was not over powering with a sweet fruit flavor.
Thanks to
SheSpeaks
!
Connect with Arbor Mist in these Social Media:
Arbor Mist in Facebook
Arbor Mist in Twitter
Arbor Mist in YouTube
Disclosure
FREE product/s pictured above were provided to me for FREE to facilitate this post. No monetary compensation was received. Opinions expressed in this content are my own and are not reviewed or edited by Arbor Mist. Due to the new FTC rules, I was under no obligation to review any product if I so choose, Nor was I under any obligation to write a positive review or sponsor a product giveaway in return for the FREE product/s received.