Kay627
Owner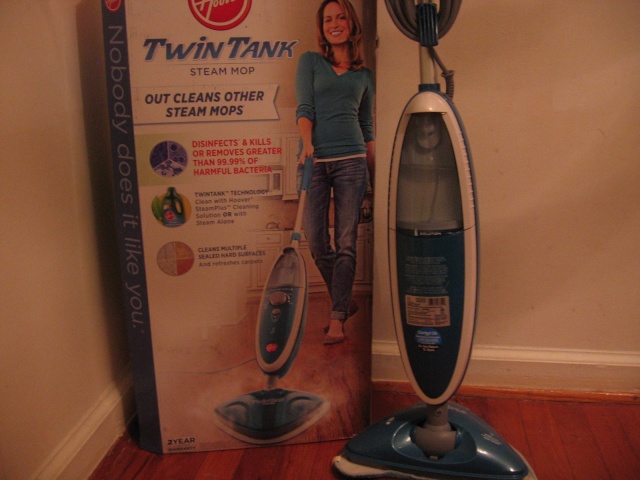 Hoover TwinTank Steam Mop
is ideal for everyday cleaning or removing tough stains from all hard floors including laminate, tile, hardwood, engineered hardwood, vinyl, sealed stone, and more. Unlike competitors that rely on steam alone, Hoover provides a proprietary 100% biodegradable formula cleaning solution that allows the Hoover TwinTank Steam Mop to
OUT CLEAN
other steam mops1. Equipped with an on-demand steam trigger, 30 foot power cord, and adjustable solution control, the TwinTank Steam Mop makes your floor cleaning task easier than before.
The Hoover TwinTank Steam Mop's lengthy 30-foot cord will let you cover plenty of ground without having to unplug. This model smoothly wiped up stains on the vinyl and hardwood floors and comes with an EPA-registered disinfectant cleaner for extra disinfecting power.
The twin tanks go on each side of the machine. One gets filled with solution and one with water. It produces plenty of steam, but an average water reservoir tank means you'll have to take a few extra trips to the sink for big cleanups. The cleaning cloths easily adhere to the unit though, making them a snap to attach and remove.
An added bonus advantage to the
Hoover TwinTank Steam Mop
is that I can use it on my carpet. It's a lot easier than getting out the carpet shampooer. The Hoover isn't very high so it's able to go under furniture better. Another thoughtful extra: The Hoover comes with a resting pad to protect the floor while it heats up or cools down.

I really like this steam mop, it does a thorough job on cleaning and sanitizing!
You can buy the Hoover Twintank Steam mop
online
or from a
retailer nearest you
.
Disclosure
FREE product/s pictured above were provided to me to facilitate this post. No monetary compensation was received. Opinions expressed in this content are my own and are not reviewed or edited by Hoover. Due to the new FTC rules, I was under no obligation to review any product if I so choose, Nor was I under any obligation to write a positive review or sponsor a product giveaway in return for the FREE product/s received.