Kay627
Owner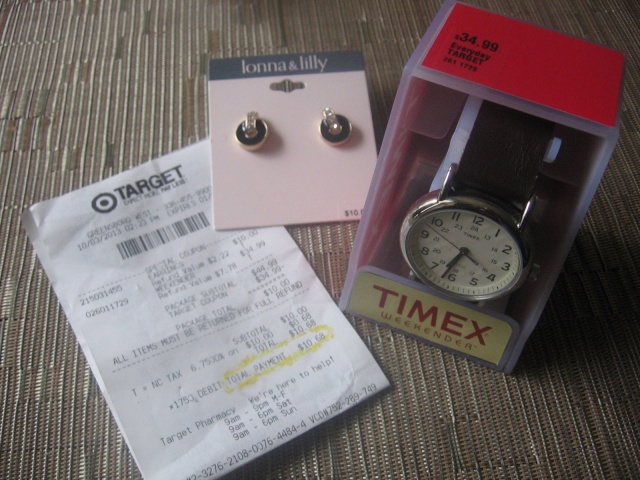 Just came home from Target and as you can see from the pic I was able to snag a pair of earrings AND a Timex Weekender watch all for $10.68!! And you should be able to score a similar deal too (maybe even cheaper!)
First, if you are not yet signed up for Target Mobile offers, you'll need to text
OFFERS
to
827438
(standard text messaging fees will apply) and click on the link that will be immediately texted back to you. Fill out the required info, follow the directions and you will receive a unique link for several Target Mobile coupons valid through tomorrow.
One of these Target Mobile coupons is valid for Buy One Accessory Item (sunglasses, jewelry or watch) and Get 1 Free up to a $58.99 value. And here's the best part – clearance items do qualify and the higher priced item is the one that is ringing up FREE in the system. That means you can snag a FREE Accessory item (up to a $58.99 value!) when you purchase another accessory item on clearance.
Target in my area has not a lot of choices in the clearance section so i opted for this $10.00 earrings!
You should not have a problem with this deal as
Target confirmed this awesome deal on their Facebook page
.