Kay627
Owner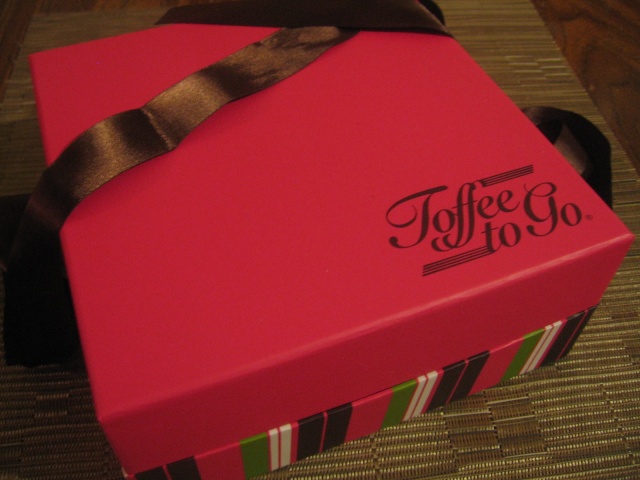 About Toffee to Go;
From family recipe to family business, we bring you "Toffee to Go," a sweet treat you will love at first bite. Our toffee is made with only the finest ingredients. Each batch begins with farm fresh butter, premium chocolates, California almonds and Georgia pecans. Enjoy our three delectable flavors - Milk Chocolate Toffee with Almonds, Dark Chocolate Toffee with Pecans and White Chocolate Toffee with Macadamia Nuts.

Since 1998, our buttery, sweet, chocolatey, crumbly toffee is a Tampa treasure, distributed coast-to-coast, enjoying a national reputation for award-winning sweets.
Toffee to Go
are handmade toffee that has been honored as "Best Chocolates", "Best Candies", "Best Desserts", and
one of  Oprah's Favorite Things list in 2013
. I received a
Classic Collection - Assorted Toffee
in a cutely packaged 1lb gift box which includes three delectable flavors - Milk Chocolate Almond, Dark Chocolate Pecan and White Chocolate Macadamia Nut toffee. All three melt in your mouth flavors are free from preservatives! They are just simply amazing. Its creamy, buttery, crunchy, sweet - all the characteristics i am looking for a great handmade toffee!
So if you are still looking for a great, sweet gift for the loves of your life this Valentine's day or whether you are in need of corporate gifts, party favors or just a treat to reward yourself  
Toffee to Go
has a delectable selection of toffee available. They take pride in the fact that no preservatives are added to their toffee and that it is still made by hand in small batches. Toffee to Go has several packaging options, from their signature gold boxes and tins, to bright colorful options that can all be imprinted with corporate logos or event names for branding purposes, Toffee to Go has sizes and styles to fit every budget and occasion.
Even sweeter through February 13, 2014,
Toffee to Go
is offering up FREE Ground shipping on orders $27 or more just use coupon code
FSVAL
at checkout.

Connect with Toffee to Go on these Social Media:
Toffee to Go on Facebook
Toffee to Go on Twitter
Toffee to Go on Pinterest
Make sure to
sign up for their Monthly Toffee Specials
for discount coupons, news, and updates on Toffee to Go products.
Disclosure:
FREE product/s featured above were provided to me to facilitate this review. Opinions/statements are my own and may differ from yours.