Kay627
Owner
I admit it….I have a wicked sweet tooth. You name it, if it's sweet, I'm all over it, so when I was recently given the opportunity to review some cookies from
Smiley Cookie
, I couldn't respond with a yes fast enough.
Smiley Cookie
have been around for more than 20 years and started as a delicious treat at the Eat'n Park in Pittsburgh. Today every child that dines there, gets a Smiley Cookie. Add all those adorable free cookies up and it totals more than one million a year! Kids aren't the only ones who benefit from Smiley Cookie's generosity. Every year, more than 200,000 smiling cookies are donated to local non-profit organizations. That's a lot to smile about.
I received a dozen of
Smiley Cookie
this past week. They came in a sturdy box that had smiley-faced cookies all over it. The box itself is fantastic and can be used to store all sorts of things!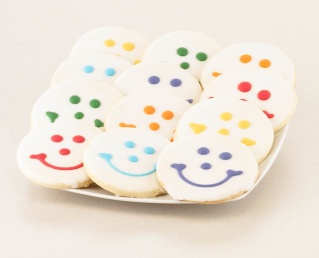 Smiley Cookie
are delicious! These sugar cookies were moist, buttery and tasted like they were baked that day and the icing was "solid" and baked on so that it wouldn't drip or make a mess. They were also about twice the size I expected. Each cookie is about 4 inches in diameter, so they are a good size and who wouldn't like a sugar cookie that smiles back at you?
A
Smiley Cookie
would also be a great gift to start to the new school year and will definitely bring a "smile" to your child's face.
Cookie Gift Baskets
can be delivered for just $29.99 and the Smiley Cookies start at just $13.99 a dozen.
Connect with Smiley Cookie in these Social Media:
SmileyCookie on Facebook
SmileyCookie on Twitter
Disclosure
FREE products were provided to me to facilitate this review. No monetary compensation was received. My product review is my honest opinion and is not reviewed or edited by Smiley Cookie. I was under no obligation to review any product if I so choose, Nor was I under any obligation to write a positive review in return for the FREE product/s received.