Kay627
Owner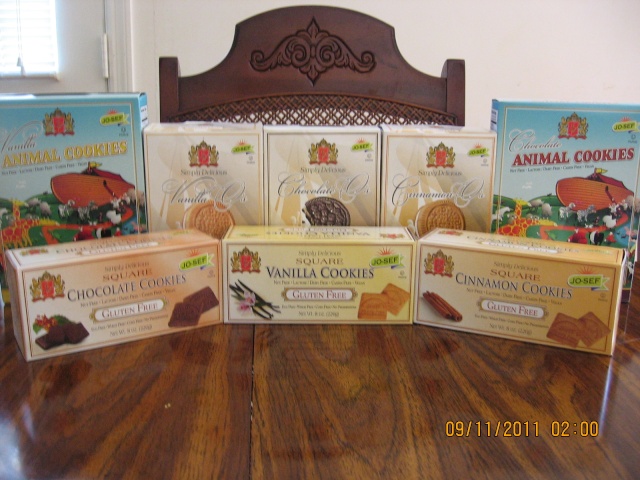 About Jo-sef Gluten-Free:
Nine years ago, after endless sleepless nights, and months of agonizing and fruitless doctor visits, our son was diagnosed with gluten intolerance, otherwise known as celiac disease. Our initial reaction to this diagnosis was relief. At least, (we thought) the solution is simple: all we'd have to do to see our son improve is keep him on a gluten-free diet. But as soon as we were ready to start, reality hit us. What would our son eat? Who would help us?
We found the answer within our hearts and in our own kitchen. We researched, experimented, tested and tasted until we found the right recipes for every food our son would be missing in a regular diet. He took snacks to school, ate delicious sandwiches for lunch and even enjoyed pizza parties. Slowly friends and neighbors started asking about our new "bakery" and as word got around we were inundated with calls for recipes and requests to accept orders for those unable to bake. Friends who had children who were allergic to dairy or eggs were also thrilled to have another address where they could find foods their children could enjoy and share. The immediate and enthusiastic response to our efforts was evidence of the tremendous demand for gluten-free products and encouraged us to continue in our mission. The rest of our history is...history.
Today, our son is doing remarkably well, and our attempt to help him avoid gluten has turned into something much larger than we could have ever envisioned. We have reached out and helped thousands of people with our high quality alternatives to the standard gluten loaded fare. In addition to being gluten free, all
Jo-sef Gluten-Free
products are egg free, cholesterol free, lactose free, peanut free, additive free, and preservative free. And they're kosher too!
For this review we received one of each of their products;
Sandwich Cookies
Dipped in milk, or on their own, Jo-Sef 's delicious sandwich O's are the perfect marriage of crunch and cream to satisfy the cravings of the most die-hard snacker. Comes in 3 flavors Sandwich Chocolate O's, Sandwich Cinnamon O's and Sandwich Vanilla O's which are cream-filled delight. Hubby and Lil' Missy love these cookies.
Square Cookies
As a crisp, light snack or crushed into a flavorful pie crust, Jo-Sef 's highly acclaimed square shaped cookies have an appealing balance of delicate refinement and wholesome, flavorful goodness. Available in chocolate, Cinnamon and Vanilla. Personally, i love this Square cookies! Aside from being crunchy and tasty, there is something about this cookie i cant describe, it tasted chocolate-y but doesnt taste like raw cocoa powder. I just love the taste and texture.
Animal Cookies
Jo-Sef 's Animal Cookies are a fun, whimsical, great-tasting snack, that children enjoy snacking on at any time. In two great flavors, these cute critter shaped cookies keep kids sated and entertained. Available in Chocolate and Vanilla. My kiddo enjoyed the fun shapes just as much as the great taste.
All in all i was impressed with how much flavor the cookies had. Most gluten free foods taste like card board, but these were really tasty. But they also aren't disgustingly sweet like some regular cookies can be. The cookies were crispy and fresh , just the way I like them. A great cookie experience and I know we'll be getting these cookies again.

Thanks to Jo-sef Gluten-Free one lucky EFS member will receive the same package i got (ARV $37.00)!How to enter:Mandatory Entries:
* You have to be an Everyday Free Samples member to participate/comment on a giveaway/forum so
REGISTER NOW!
Its FREE!
*
"Like" Josef's Gluten Free Cookies
on Facebook. Tell them you read a review here on Everyday Free Samples.
Extra Entries
*
"Like" Everyday Free Samples
on Facebook.
*
Follow Everyday Free Samples
on Twitter.
*
Follow Josef's Gluten Free Cookies
on Twitter.
* Retweet this daily:
EFS: #Win an assortment of @JosefsGluten products ($37 value) at @FREESAMPLES4ALL #Giveaway bit.ly pM8Qom ends 10/03 OPTIONAL: Retweet ONCE a day until the giveaway ends just leave a comment below with your status link. Make sure to leave comments separately.
Giveaway Guidelines and Disclosure:
FREE products pictured above were provided to facilitate this review. No monetary compensation was received. Giveaway ends Oct. 03, 2011 at 11:59PM EST. Winner/s will be picked via Random.org and announced the following day. Winner will also be pm'ed and will have 48 hours to reply before another winner is chosen.


Last edited by Admin on Tue Oct 04, 2011 5:54 pm; edited 1 time in total