Kay627
Owner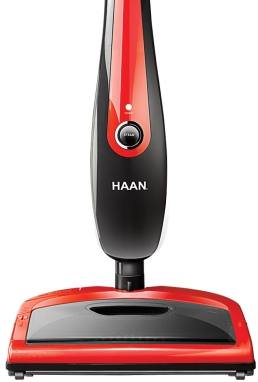 About HAAN
Romi Haan set out to solve a problem. How can you get the floor sparkling clean without investing a lot of time and without using harsh chemicals?
The answer was surprisingly simple: Steam. When heated and applied properly, steam kills 99.9% of household germs, bacteria and viruses and easily powers away dirt and grime.
HAAN
steam-cleaning tools were an instant sensation. In fact, a recent Gallop poll showed that in Korean homes that use steam, 3 out of 4 choose to do so with HAAN. Since introducing HAAN products to the US in 2007, millions of consumers have added steam to their cleaning routine for a quicker, healthier way to clean.
HAAN is recognized as the market leader and an innovator in steam technology. Romi Haan and the HAAN Corporation are committed to advancing steam technology and developing products that help customers spend as little time cleaning as possible!
I was really excited to receive the
HAAN Total HD60 Steam Sweeper
to review. Living in a 4 bedroom house with 2 dogs and a cat plus a toddler running around, let me tell you it is not easy to keep the house clean and sanitized.
Vacuuming then mopping is very time consuming and tiring! That is why i am so glad i found HAAN Total HD60 Sweeping Steamer! Now i can
steam and sweep
the entire flooring of my house with one tool, cuts my floor cleaning time down in half! This steam mop is great to use on carpet, vinyl, tile, laminate and hardwood.
The machine is very lightweight and easy to maneuver around, especially since it has a low profile swivel head. The motorized brush roll does a great job at picking up debris and then adding it to the easy to empty dust bin. I also appreciate the long electric cord so that I can work on my floor for long distances without having to keep finding electrical outlets to re-plug it in to. There is also a removable water tank that you fill up with tap water and that is what provides the steam to sanitize your floor surface. The Micro-Fiber pad will show you how much additional dirt that machine picked up off the flooring and you can actually wash them by hand and re-use them over and over again!
The
steam mop
function kills 99.9% of household germs, bacteria and dust mites without the use of any chemicals…just hot steam. The best part is that you can use the steamer and the sweeper together or one at a time. This is really a great steam sweeper!! HIGHLY-RECOMMENDED!
For the best part, HAAN is offering my readers $15.00 off on the HAAN Total HD60 Sweeping Steamer, just use promo code AUGEFS at checkout!
Here is what's included when you buy a HAAN Total HD60 Sweeping Steamer;
- 2 Reusable Ultra Micro-Fiber Cleaning Pads
- Carpet Glide Attachment
- Floor Protector/Resting Pad
- Lime and Scale Remover
- Users Manual & Warranty Card
Connect with HAAN on these Social Media:
HAAN on Facebook
HAAN on Twitter
HAAN on YouTube
HAAN on Pinterest
Disclosure
FREE product/s pictured above were provided to me for FREE to facilitate this post. No monetary compensation was received. Opinions expressed in this content are my own and are not reviewed or edited by HAAN. Due to the new FTC rules, I was under no obligation to review any product if I so choose, Nor was I under any obligation to write a positive review or sponsor a product giveaway in return for the FREE product/s received.