Kay627
Owner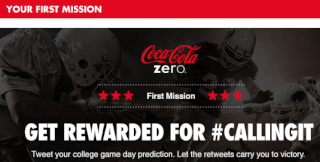 My Coke Rewards has just launched a Beta program and is offering up a brand-new rewards system! Here's how it works: whenever you participate in various "Missions," you'll raise your status and win awards. The higher your status, the better the awards will be.
Here's what you'll need to do;
Sign up for a My Coke Rewards Bet membership
make sure to confirm your membership by clicking the link they will send to your email.
Then,
click here
and complete your first mission just click "Get the Rundown" to tweet your prediction to your Twitter account (you can do this a few times).
After completing a few tasks, you should have enough points to reach Gold status. You can check your progress by clicking your user name at the top right corner and selecting "Achievements" from the drop down menu.
Once you've reached Gold status,
click here
to select one of the following rewards: $5 Domino's eGift Card, $10 Restaurant.com eGift Card, and more!
After claiming your gift, you'll receive a confirmation email with your reward details!
Note: You can also earn more points by completing your profile, inviting your friends, syncing your social accounts, declaring your favorite brand, and more!